Grindr Review
About Grindr
Grindr is arguably the most popular dating application for gays, bisexuals, and bi-curious individuals. It is well-known as a hookup application that many gay guys have fun and meet other gay guys for a night of pleasure. The app was launched in 2009 with availability in 196 countries. It receives more than two million users daily and has marked its presence as one of the world's top only male hookup platforms.
The app also passes as one of the leading gay black dating apps that have received rave reviews from users and helped many gay men find people they truly desire.
Signing Up and Login Process on Grindr
The first step during sign-up is to accept the terms of service and privacy policy. Then, the app asks for basic information like email address, age, and username. You'll also be asked to enter your phone number for verification and then submit your specific preferences like age, preferred location, and tribe. After completing that section, the next section is where you create a short "About Me" section to draw people into your profile. You'll also have to upload your photo as users are mostly drawn to what they see. Make sure you follow the app's photo requirements and avoid nudity.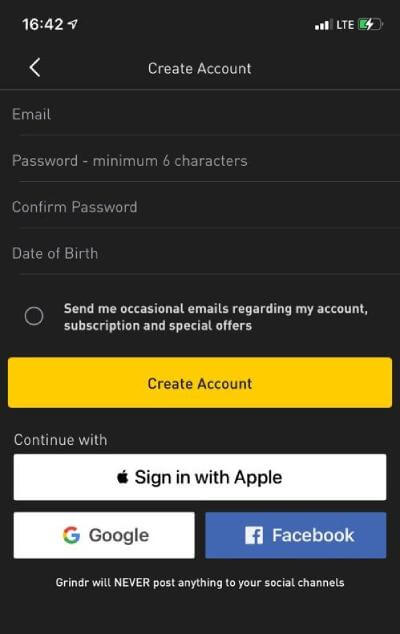 Members and Profiles on Grindr
Members are matched with one another based on location using geo-targeting. The application has a feature that allows users to see when other users are online and how close they are. Once you log in, you'll see all the profiles within a particular location radius. If you come across a profile photo that tickles your fancy, check out the full profile information and how far away they are from you.
The app has more than 6 million members worldwide, made up of gay guys looking for different types of relationships ranging from short-term to long-term.
Profile Quality
Each member's profile contains important things to know about them, such as name, age, location distance, relationship status, profile picture, and other important details. Each user's profile is sufficient to provide as much information that anybody needs to know about them. The app has quite a rich profile quality for all its members. It also has a direct link that takes you to the social media profiles of anyone you are interested in.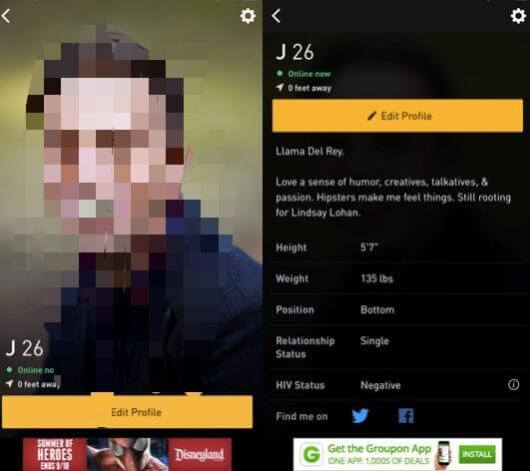 How to Make Contact and Send Messages
Making contact on Grindr is not complicated as there are different ways to get a user's attention. Online users have a green dot next to their profile, so you know whether to contact them or not. You can tap on the star on the profile to save a profile as a favorite. When sending messages to other members, there is a collection of 500 LGBTQ-themed stickers, also called Gaymoji, to add fun to your conversations.
When making contact with a user, check their online status and their proximity to your location. This is important to make sure you are about to contact someone interested in you so you don't get ignored or blocked.
Security and Support of Grindr Site
The administrators of the dating app are always working round the clock to make sure the app stays up-to-date in terms of security. Recently, there was a scandal on the platform in which a bug in the system leaked users' locations. The owners have, however, promised to put better infrastructure in place to protect user privacy.
If you as a user suspect any unusual activity from a profile, whether it's a fake profile or you suspect that a user is using other people's photos, you have the report feature. To further ensure that users maintain their real identities, the app allows users to link their social media accounts. So, if you doubt the authenticity of a profile, you can easily check them out on Facebook or Twitter.
Grindr App Review
The app delivers a full experience to users so they can meet people and communicate on the go. It delivers a variety of benefits for free too. The premium membership for the app is known as Grindr Xtra, which comes with more special features that help gay men meet one another for dating. All of these are available on the app.
Special Features
The application has a few special features, which include;
"Unsend" feature that allows users to remove messages.
"Expiring Photos feature that allows another user view any photo you send for only ten seconds before it disappears forever.
Chat Translate feature that converts texts in foreign languages if you ever travel and are trying to meet other users in a place you cannot speak their language.
Pros and Cons
Pros / Cons
The app allows you to meet nearby single gay men
It has more than 6 million members all over the world
The app is mostly free while delivering most of its features
Simple and easy profile setup
Users are usually genuine and upfront about their real selves and what they are looking for
It does not guarantee love or genuine dating relationships
The app comes with glitches once in a while
Potential matches can only be found by geolocation. There is no search feature to find specific users
Cost and Prices
The app comes as a free app that allows users to send and receive messages. However, beyond that, it has two paid options known as Xtra and Unlimited.
Xtra
One Month                        9.99 USD
3 Months                           20.97 USD at 6.99 USD per month
12 Months                         47.88 USD at 3.99 USD per month
Unlimited
1 Month                             49.99 USD
12 Months                         299.99 USD at 24.99 USD per month
Free Account or Standard Membership
Allows you to create a profile and add your pictures.
Send and receive messages.
Filtering matches using geolocation.
Use Gaymoji
Premium
Xtra
All free membership features
Zero adverts
View up to 600 profiles
View only users who are online and users with a profile photo
Sent multiple photos at once
Unlimited
All XTRA features
Check out who viewed your profile in the last 24 hours
Unsend messages and photos
Browse the app incognito, so no one sees you in their "Viewed Me" list
Typing status to know when someone is writing you a message
Scroll through an unlimited number of profiles
Grindr Review – Expert's Conclusion
One key thing you should take away from this in-depth Grindr dating review is that it is one of the top gay dating apps out there. The app gets millions of daily active users that make it suitable for gay men looking to meet others for hook up and dating.  We tested the app and found it satisfactory enough to try out as a dating app.
FAQ
Can I Sign up for Grindr for Free?
Yes. It is completely free to sign up on the dating app. You even get to send and receive messages without paying anything.
Does Grindr Have a Free Trial?
Yes. Users get to enjoy a free trial once before paying for any of the premium membership plans of their choice.
How Can I Cancel My Full Membership on Grindr?
The option is available on your account to cancel your membership whenever you want. Go to settings and cancel it.
Can I connect the app to my Facebook Account?
Yes, you can. You can connect Facebook and other social media accounts to make it easier for users of the dating app to check you out in detail.
Is it safe to input my credit card details for membership payments?
Yes. Like many other dating apps, this app has the highest level of encryption to protect your data and payment information.
How Can I Delete a Grindr Account?
From the app, go to settings at the top left corner of your profile page. Tap "Deactivate" and then "Delete" account. Choose your reason for deactivating and verify your deactivation in your email.
Is Grindr Legit?
Yes, it is a legit app for meeting gay men looking for hookups, casual encounters, or a wide range of other purposes.
Is Grindr a Scam or Fake?
The app is real and has put in place measures to verify all users. It also gives you the power to report and block any user you think is abusive and suspicious.


Grindr
Visit Site