Happn Review
About Happn
Happn is a dating application that can meet people for dating or other reasons besides dating. If you are looking for more than the regular hookup or one-time encounters, this app might be ideal for you. The app provides more information about users than a most popular hookup dating apps, and you can get to know a lot about a profile at one glance.
The app works based on location and informs you about the suitable people you have "crossed paths with" in real life. It matches you with people around your location, especially if you have been in the same place that they have been.
Signing Up and Login Process on Happn
You can get ushered into the dating world by creating an account on the application. You should create a profile set to "available" so that other people can easily see you on the app. You can also register via Facebook, which imports your Facebook basic information and pictures and verifies your account on the dating app.
After creating your account, you are free to explore all the app's features to the fullest. It does not require an elaborate verification process. Simply set up your profile, fill in the necessary details and be ready to connect with other people.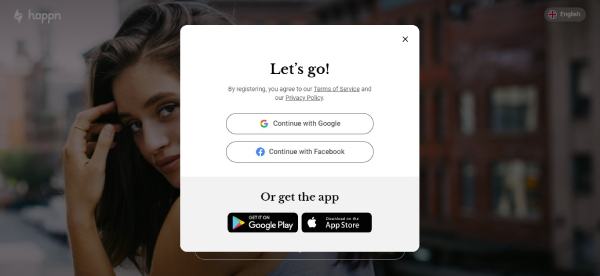 Members and Profiles on Happn
The app receives more than 400,000 visitors worldwide monthly from the United States, the UK, and India. Most members use the platform on their mobile devices through the mobile app. Most of the users are between 25 and 34 years old, with male profiles slightly outnumbering females.
It operates as a global dating platform with active users in other countries like Brazil, Argentina, Netherlands, and France. The platform has all age groups, including seniors as members. Thankfully, being a location-based app gives users limitless options to pick from as it recommends everyone within their vicinity and environment.
Profile Quality
The profile does not show much information as users can hide information like age, distance, and last active date. The app allows you to sync your Facebook and Instagram accounts. You get to upload up to nine pictures while getting to view other users' profile photos for free. The basic information on each member's profile includes profile picture, name, gender, age, education, work, distance, last active date, and short description. Some of this information can be hidden with a premium account.
How to Make Contact and Send Messages
First things first, the app only shows you profiles of users within a 250-meter radius. To be allowed to send a message to a user, you have to like them, and they must like you back. So, you can only communicate with those who like you back. With a premium subscription, you can check those who sent you "likes," like them back, and start communicating with them.
Another feature to connect with other members is the "Hello" function which you can send to anyone that appears on your feed. The user receives the notification that you want to start a conversation, and you both can take it from there. The app also has a free video call feature that lets you call other members for five minutes on video free of charge.
Security and Support of Happn Site
One laudable security measure that is in place is signing up for an account with your Facebook account. The app imports all your Facebook information, thereby making sure your profile contains enough details that you may be otherwise lazy to fill in yourself. However, while this promotes authenticity by reducing hackers and bots who create fake accounts, there's no telling how far scammers and fraudsters are willing to go. There is no other verification process, so the app works with what it extracts from your Facebook profile.
Besides the above, the app ensures all private data is kept safe while keeping the matchmaking process simple and convenient for all users.
Happn App App Review
The mobile application is designed in a way to ensure all registered users are real. It mandates every user to have a Facebook account, and it has quite an effective connection that other dating apps don't have. It connects users with other users they might have met or run into in their neighborhoods.
Special Features
The app has some impressive and unique special features that make the app more fun and interactive. Some of those features include FlashNote, Hello, voice messages, My Music Selection, Crush Time, Audio Feature, "I'm up for…," and Similarities Badge. All these features either make it easier to communicate or make communication more fun for members.
Pros and Cons
Pros / Cons
Quick profile setup, especially with the Facebook integration
The app works for Android and iOS, which allows for on-the-go communication
Connects people easily with people in their neighborhood, especially if they remember crossing one another's paths
The app has too many users, which many members do not particularly like
Matching is based on members' vicinity, so members looking to meet people outside their vicinity may not enjoy the app
If things go south between matches, it can lead to awkward meetings or encounters
It has no verification process, which might lead to an influx of fake profiles
Cost and Prices
1 Month                             24.99 USD
6 Months                            899.99 USD at 15.00 USD per Month
12 Months                         119.99 USD at 10.00 USD per Month
The app also makes credit available to users, and the prices are highlighted below;
10 Coins                             2.99 USD
60 Coins                             14.99 USD
100 Coins                           16.99 USD
250 Coins                           39.99 USD
Free Account
You can send likes on a free account
You enjoy basic matching and a chat with your crush (users who liked you back)
You can post a profile status
You can view other members' photos
Premium
You can set your privacy settings and make your profile more mysterious
You can schedule invisibility for your profile
You can remove ads while browsing through the app
You can see who's liked you
Happn Review – Expert's Conclusion
Happn has set itself apart as an online dating app that brings people in the same geographical location together. The app set out to achieve the goal of giving people who have run into one another a chance to meet, interact and get to know one another. We think the app is best for people who live in highly populated areas as meeting people is higher. It is quite a decent app that delivers its promises, and we expect everyone to enjoy it.
FAQ
Can I sign up for Happn for Free?
Yes, signing up on the app is free. You also get to enjoy most of the app's features without subscribing to premium membership.
Does Find Happn Have a Free Trial?
No. If you are not getting the most out of your free membership, you have the option to upgrade to a premium membership.
How Can I Cancel My Full Membership on Happn?
You can cancel your full membership through your subscription method. Whether you have paid through your Google pay, Apple or PayPal, you can cancel the subscription through any of them.
Can I Connect the App to My Facebook Account?
Yes, it is a requirement for registration. When signing up, you can sign up with Facebook so that all your basic information can be imported.
Is it Safe to Input My Credit Card Details for Membership Payments?
The app is completely safe for users. The platform's administrators make sure all personal information and data are properly used and stored.
How Can I Delete a Happn Account?
You can contact customer support for steps on how to delete your account on the app.
Is Happn Legit?
As a dating site, yes. It's a legit app that delivers the full experience of online dating.
Is Happn a Scam or Fake?
No, it's not. The app has connected many people who have gone ahead to build different types of relationships.

Happn
Visit Site